How to Make Money on TikTok?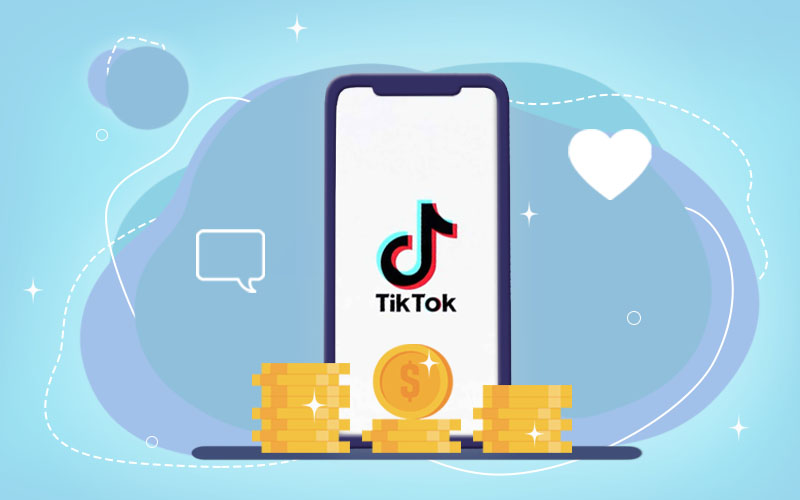 Have you considered TikTok's potential for making money in digital marketing?
Even if you never had such thoughts before, now is the time to think.
In 2020, TikTok has over a billion registered users in 150 countries. This makes the service an excellent platform not only for self-expression, but also for the sale of their goods and services. This number of users puts it on a par with Instagram in reach, and its enduring popularity, especially among a younger audience, has forced many more marketers to follow the latest TikTok trends.
The fact is that the solvent audience of the social network is only growing. This means that TikTok income will grow with it.
At the same time, not only businesses can make money on the platform, but also owners of personal blogs, editors, photoshoppers, and advertising specialists.
The main thing is to understand that in order to receive a decent income from TikTok, there is no need to independently create an account and become a star of the platform.
Ways to make money on TikTok.
Direct advertising.
The most obvious way to make money on any social network is direct advertising. It is purchased from bloggers by both their colleagues and brands interested in selling their goods and services. It is because of this that advertising is divided into several categories.
Brand advertising.
Customers come to large bloggers themselves. But if you have several thousand subscribers on your account, you can independently offer your services. To do this, look for Instagram accounts with suggestions.
Ambassador.
Brand ambassadors are people who create a positive image. Essentially, this is another form of long-term brand advertising.
Typically, company ambassadors are sent products for testing or are allowed to personally try new services. At the same time, they pay extra for their activities – specific amounts depend on the loyalty of the ambassador's audience, the size of the company and the cost of the goods offered. But only accounts with several hundred thousand subscribers can get the rights of an ambassador; for beginners, this way of making money on TikTok will not work.
Partnership programs.
Some users earn by publishing affiliate links. However, getting good traffic is just that hard. The platform does not allow posting direct links. Therefore, first a person must go, for example, to Instagram, and only then to the partner's website. The easiest way to do this is by inviting you to buy goods in online stores using your promotional code. You can search for such offers on the Admitad and CityAds sites. Advertisements on any topic are published there, which allows you to choose an advertisement taking into account the topic of the channel.
Advertising of other channels
Channel advertising is bought by novice Tiktokers from other, more successful colleagues.
Most often, people record duets with other bloggers: they act out certain stories, sing, dance, draw or complete tasks.
Sometimes they start common challenges, united by a single tag, shoot joint videos with an unclear end, offering to go to an affiliate account and find out the continuation. There is no fixed cost for advertising from other channels. It is calculated taking into account the reach, type of videos and the number of clicks or subscriptions – this is negotiated in advance.
Advertising of music tracks
Almost all videos on TikTok are created with music tracks. In fact, it is this social network that sets the trends in music now. Due to the fact that it affects the popularity of performers, offers for music advertising appear. Typically, this is done by medium or small channels from 10,000 subscribers.
Monetizing live broadcasts
TikTok allows you to broadcast, that is, communicate with subscribers in real time.
You can also advertise services and goods in live broadcasts. And both our own and partnerships. This opportunity creates an offer for live advertising. However, such PR, when it comes to other people's products, is not considered very effective. This is all due to the fact that live broadcasts disappear from TikTok if they were not recorded.
How can you make money if you don't want to create your own blog?
Ways to make money in TikTok without a blog.
Not all people need fame, especially among a specific audience like TikTok. So, if you own video editing programs, know how to program, make beautiful pictures in Photoshop or promote social networks of customers, there will be no problems with how to make money on Tik Tok.
Installation
Not all TikTokers know how to edit video, so the services of editors are required from the very beginning of the platform's popularity.
This is especially important for channels based on pranks and optical illusions: not only success depends on editing, but the very essence of the video. Such income is suitable for those who have professional video processing software and sufficient experience. There are many potential editors on TikTok. However, the salaries of the in-demand specialists are good.
Creation of screensavers
Similar to YouTube, TikTok requires colorful splash screens. Moreover, it is important,but so that they reflect the essence of the video and make the viewer interested in its content. This is what gave birth to a new Internet profession – the creator of screensavers. There is still little competition in the niche, while the demand for such services is growing.
Earnings on SMM
At its core, SMM is full-fledged social media marketing. And on TikTok, this service is in demand. It is especially needed by channels that sell their real or informational products. There are few qualified social media marketers on the platform, which can be used by anyone who wants to make money on TikTok.
We have presented you only a small part of the possibilities that the popular social network provides. Search, choose what is right for you.